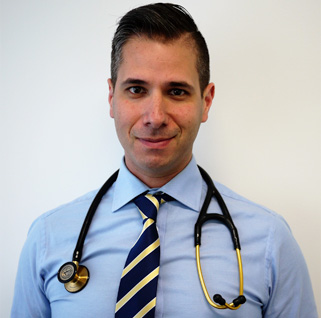 DR ADAM BERGER
MBBS (Hons) BSc Med FRACP
Clinical and Imaging Cardiologist
---
Dr Adam Berger graduated from Medicine with Honours at UNSW in 2003, and completed physician training at Prince of Wales and Liverpool Hospitals. He completed cardiology training in 2011. He went on to complete an 18 month post-graduate fellowship in cardiac imaging at Prince of Wales Hospital, followed by a 12 month clinical and research fellowship at St Paul's Hospital, Vancouver, in 2013/14, concentrating on the cutting edge fields of cardiac CT and MRI, with an emphasis on structural heart interventions.
He was appointed a Visiting Medical Officer at Liverpool Hospital in January 2015, and is a Conjoint Lecturer with the UNSW School of Medicine. He is heavily involved with the training and mentorship of students, junior medical officers and cardiology trainees.
His main area of interest is the use of multimodality imaging techniques in the diagnosis and management of cardiovascular disease, with particular emphasis on cardiac CT. He is accredited as a Level B cardiac CT reporter and teaches cardiac CT with the Australian Institute of Cardiac Computed Tomography. He also has extensive experience in both transthoracic and transoesophageal echocardiography, as well as stress echocardiography and cardiac MRI. He is widely published, and his most recent publication history includes work on the use of cardiac CT to plan for percutaneous valve implantation in structural heart disease, as well as the long term prognostic implications of cardiac CT findings in asymptomatic persons.
His training as a cardiac imaging sub-specialist serves him well as a general cardiologist, especially in the treatment of coronary artery disease, heart failure and valvular dysfunction. He also has strong interests in cardiomyopathy, anticoagulant therapies, preventative cardiology and lipid management.
Dr Berger consults at the following Sydney locations:
Harbourside Cardiology – Barangaroo & George St (Town Hall)
www.harboursidecardiology.com.au
02 8379 0355
Southwest Cardiology – Liverpool
www.southwestcardio.com.au
02 9600 6366
Randwick Cardiology – Randwick
www.randwickcardiology.com.au
02 9398 2543